Posts for: March, 2018
By Steven M. Erlandson, DDS
March 30, 2018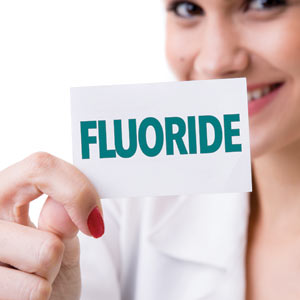 Fluoride is an important weapon in the fight against tooth decay. Fluoride consumption and other applications are especially beneficial during children's dental development for building strong teeth long-term.
But the truism "too much of a good thing" could aptly apply to fluoride. If a child consumes too much fluoride over an extended period of time, it could cause a condition called enamel fluorosis in which the enamel surface develops mottled or streaked staining. It's not harmful to the tooth's health, but it can greatly diminish a person's smile appearance.
To avoid fluorosis, it's important with the help of your dentist to know and regulate as much as possible the amount of fluoride your child receives. Here are 3 fluoride sources you should manage.
Toothpaste. Many manufacturers add fluoride to their toothpaste formula, usually an important way to receive this tooth-strengthening chemical. But younger children tend to swallow more toothpaste than older children or adults. Because the chemical builds up in the body over time, swallowing toothpaste every day could potentially elevate your child's fluoride levels. To avoid this, just use a "smear" of toothpaste on the brush for children under age 2, and a pea-sized amount for older children.
Your water system. About three-quarters of all public water utilities add fluoride to their water as an added measure for tooth decay prevention. The amount can vary from system to system, although the maximum amount recommended by the U.S. Government is 0.70 parts per million (PPM). You can ask your local water system how much fluoride, if any, is present or they add to your drinking water.
Bottled water. Any type of bottled beverage (water, juices, sodas, etc.) could contain various levels of fluoride. Unfortunately there are no labeling requirements regarding its presence, so the most prudent course is to carefully manage the beverages your child drinks, or stay with bottled water marked "de-ionized," "purified," "demineralized" or "distilled," which typically have lower fluoride levels. For babies feeding on milk, you can use the aforementioned bottled waters to mix powder, use ready-to-feed formula (also low in fluoride) or breast-feed.
If you would like more information on fluoride and your baby, please contact us or schedule an appointment for a consultation. You can also learn more about this topic by reading the Dear Doctor magazine article "Tooth Development and Infant Formula."
By Steven M. Erlandson, DDS
March 15, 2018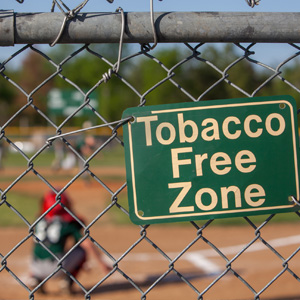 Spring means different things to different people—but to baseball fans, it means just one thing: the start of another thrilling season. All 30 Major League Baseball teams begin play this month, delighting fans from Toronto to Texas and everywhere in between.
The boys of spring carry on an age-old tradition—yet baseball is also changing with the times. Cigarette smoking has been banned at most ballparks for years; smokeless tobacco is next. About half of the MLB venues now prohibit tobacco of any kind, including "snuff" and "dip." What's more, a recent contract agreement bars new Major League players from using smokeless tobacco anywhere.
Why all the fuss? Because tobacco isn't safe to use in any form. People who use smokeless tobacco get just as much highly addictive nicotine as cigarette smokers. Plus, they get a mouthful of chemicals that are known to cause cancer. This puts them at higher risk for oral cancer, cancer of the esophagus, pancreatic cancer and other diseases.
A number of renowned ballplayers like Babe Ruth, Curt Flood and Bill Tuttle died of oral cancer. The death of Hall of Famer Tony Gwinn in 2014 focused attention on tobacco use in baseball, and helped lead to the ban. Gwynn was convinced that his addiction to smokeless tobacco led to his getting oral cancer.
Yet tobacco isn't the only cause of oral cancer. In fact, the disease is becoming more common in young people who do not smoke. That's one more reason why it's so important for people of all ages to keep to a regular schedule of routine dental exams. These visits offer a great opportunity to detect oral cancer in its earliest, most treatable stages.
So as you watch your favorite team, take a tip from the professional athletes' playbook. If you don't use tobacco, don't start. If you do, now is a good time to quit. For help and support, call an expert at 1-800-QUIT-NOW or visit smokefree.gov.
If you have any questions about oral cancer, please contact us or schedule an appointment for a consultation. You can also learn more by reading the Dear Doctor magazine article "Diet and Prevention of Oral Cancer."